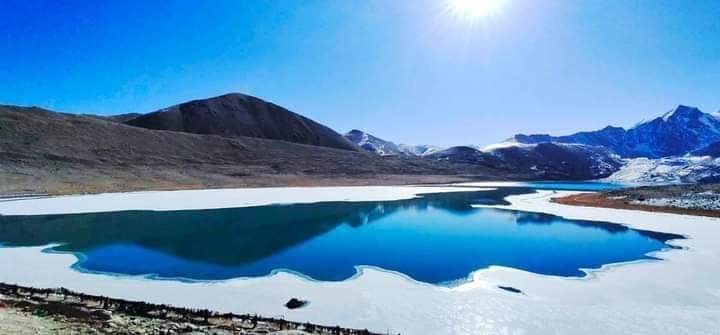 North Sikkim Group Tour Packages
- Best winter Offer 2023
3 Days
2 Nights

Pickup:
Gangtok

Drop:
Gangtok

Starting Price
6500.00/person
Planning for a Sikkim Gangtok Group tour packages but not sure what you should visit or how you should plan? Don't worry, Tourist Hub India has it sorted for you.
Our North Sikkim group tour packages comes in different sizes as the place itself is a confluence of art, culture, natural beauty and adventure.
Sikkim- a state that was once attributed as a different country became an inseparable part of India in 1975. It is situated in North East India with its rich history, and culture it attracts thousands of tourists from all across the world. Besides historical significance it offers adventurous activities to the people who love mountains.
The state is known for its anti-pollution and anti-tobacco drive campaign. The tiny state nestled in the Himalayas is leading a green revolution in its own way. Tourist Hub India encourages people who love nature to pay a visit to the place.
You will be also able to explore various amazing places of India throung our customised packages like North Sikkim Tour 2n/3d, Pelling Ravangla Gangtok tour from Bagdogra,Sundarban Package Tour, Silk Route Package Tour, North East Tour Package, Leh Ladakh Package Tour, Dooars Package Tour, Andaman Package Tour and many more with your friends and family.
Day Wise Sikkim Gangtok Group tour package
Visiting all the best places in Sikkim is tough as every corner of the state has something exclusive to offer. Though, we have tried our best and built an itinerary to make sure you don't miss a corner. So, let have a look at our exclusive and complete North Sikkim group tour packages itinerary.
DAY WISE NORTH SIKKIM TOUR FROM GANGTOK ITINERARY
According to our knowledgeable and well-experienced North Sikkim tour operators in Gangtok, and we have prepared this flexible North Sikkim tour itinerary from Gangtok for your Gangtok to North Sikkim journey.


The second day's sun will cheer you for a new exhilarating journey!
After having a delicious breakfast at your Gangtok hotel, we'll move toward one of the most exciting parts of your North Sikkim group tour, the Lachen Tour.
At 10a.m we'll get ready for the Lachen with the private car from your hotel. Moreover, before reaching Lachen let's know some interesting facts about it→
➔ It is situated at a height of 9000 ft.
➔ 'Lachen' contains the majority of the valley; also rare flower species like Conifer and more than 40 species of Rhododendrons can be spotted here.
➔ Lachen is named after 'Lachen Chu', a stream of the mountain that has gone through the heart of the valley, making it intensely stunning as it flows.
➔ It can get extremely cold from October to November due to heavy rainfall.
➔ Lachen also has a famous monastery called 'Lachen Monastery' known as Lachen Gompa which was built in 1858. Made in Tibetan architecture style here, you can witness amazing festivals for getting a taste of Sikkim's culture.
➔ From 107K.M away from this area, you can also visit the Kanchenjunga National Park which is registered as a World Heritage Site by UNESCO.
Moreover, It'll take around 4 hours via NH 31A to reach Lachen and after reaching you'll witness the most amazing places mentioned in the following:
● Tashi View Point- This place was built by Tashi Namgyal, here you can have a paranoid view of Mt. Kanchenjunga.
● Kabi Longstok- The treaty between Lepcha Chief Te-Kung-Tek and the Bhutia Chief They-Bum-Sar was signed here, so it is considered a historical place of North Sikkim located near the highway.
● Seven Sister Waterfalls- The name of this waterfall comes as it makes its descent in seven stages. Here you can also find a shed and cafeteria which is specially set by the Tourism Department of Sikkim for tourists to savour the pristine elegance and be with nature.
● Naga Waterfalls- This is a perennial waterfall in nature, created with the confluence of rivers Lachen-Chu and Lachung-Chu at Chungthang.
The other two waterfalls Bhim Nala & the Twin Waterfalls will come across in the route along with the glamorous Teesta river which will follow you all the way.
Subsequently, after visiting the incredible spots you'll be provided with a tasty lunch at Namok, a glorious village of North Sikkim. You'll possibly reach Lachen around the evening.
Here, you'll stay overnight and have your flavorful dinner at our arranged deluxe hotel at Lachen.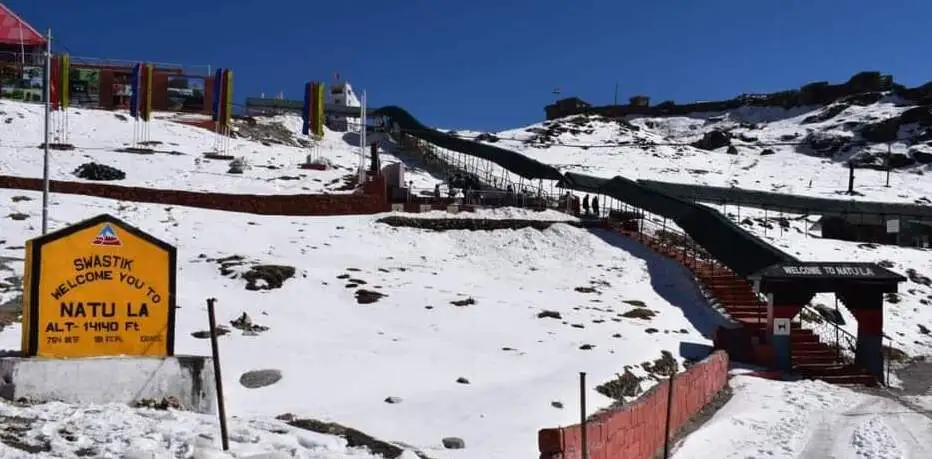 After waking up at your deluxe hotel in the early morning, you'll have a tasty breakfast. Accordingly, we'll look forward to one of the best sightseeing places in North Sikkim, Gurudongmar Lake. So, here are some vital points you must know about Gurudongmar Lake before your Gurudongmar Lake Tour→
● Gurudongmar Lake is located at a height of 5,154m above the sea.
● It is one of the sacred lakes of Buddhists & Hindus.
● It remains an elegantly milky colour throughout the year.
● As the water of this lake remains frozen throughout the year, its water is not drinkable.
● As per the locals, this lake was discovered by Guru Padmasambhava when he passed by this area from Tibet.
● Locals consider this lake 'blessed' as a part of this lake remains unfrozen throughout the year as it was being touched by Guru Padmasambhava.
● You can also take blessings of this holy lake by tieing the ribbon here and making a wish. Many locals consider it as a 'wish lake'.
After having a blast at your Gurudongmar Lake Tour, you'll have your lunch at the Lachen hotel. Therefore, you'll transfer to Lachung. Located at an altitude of 2700 m above sea level, it'll take 1 hour 55mins to reach here from Lachen (46.9 km) by road.
After reaching Lachang, you'll freshen up at your deluxe hotel at Lachung and have a delicious dinner.
Don't let the excitement of your next day's journey snatch your sleep!


This will be your last day of glimpsing the bright days of Sikkim!
In the morning after breakfast, you can shop at the mall for some time. Later on, we'll say our final goodbyes with a heavy heart after checking out from the hotel. Thereupon, you'll move forwards to NJP / Bagdogra by private car for your return journey.
This North Sikkim tour packages from Gangtokjourney will give you unforgettable memories that you'll cherish forever!

North Sikkim group tour packages Inclusion:
Accommodation at any of the 3/4/5 Star Hotels and Resorts

Breakfast, Snack, Dinner

Private vehicle.

Toll Tax, Permits, and Parking fees

Driver and fuel allowance

Pickup and Drop.
Sikkim Gangtok Group tour package Exclusion:
Sightseeing point entry fees

Any other meals that the ones mentioned above

BBQs or House Parties

Any extra service consumed by the guest.(payable directly)
>Sikkim Group tour package Price
>North Sikkim group tour package costdepends upon your hotel catagories and duration of trip. Here we provide the general cost of your cost of Sikkim Gangtok Group tour package tour from Njp/Siliguri/Bagdogra as follows.
packages
Duration
Rooms
Starting Price
GST
Gangtok with Lachen Lachung
2N/3D
STD/DELUXE/COTTAGE
Rs. 8,500/-
Gangtok with Lachen Lachung and Pelling
4N/5D
STD/DELUXE/COTTAGE
Rs. 15,500/-
North Sikkim Tour
5N/6D
STD/DELUXE/COTTAGE
Rs. 12,500/-
Sikkim Tour With Pelling and Darjeeling
5N/6D
STD/DELUXE/COTTAGE
Rs. 11,200/-
Sikkim Tour With Gangtok+Pelling+Darjeeling
10N/11D
STD/DELUXE/COTTAGE
Rs, 20,800/-
Best Time to Visit In Sikkim
Sikkim, nestled in the lap of the Himalayas is a popular tourist destination in India. Due to its geographical location, different parts of Sikkim show different climatic conditions. Usually, there are three distinct weather conditions that are felt- tropical, alpine, and temperate.
Most of the time in a year the southern part of Sikkim remains pleasant due to subtropical climatic conditions; whereas, the northern part of the state experiences snowfall during winter. Hence, the best time to visit Sikkim is between March to June. During that time the temperature remains around 5°C to 20°C.
The months like July, and August are the monsoon months. During those months the region receives heavy downpour which often leads to landslides. During monsoon, the temperature remains around 4°C - 15°C. The northern part of Sikkim also experiences autumn from September to October, however, the high altitude areas receive snowfall.
Summer Season in Sikkim
Summer in the mountains is pleasant and Sikkim is no different. It is considered to be the best time to visit Sikkim. Summer starts from mid-March and stays until June; in summer people flock to the state during these months. During summer West Sikkim is the best place to visit as the temperature remains around 10°C to 21°C.
Since summer is the peak season to visit Sikkim, Tourist Hub India suggests you to plan your Sikkim Group tour package early. For a Sikkim trip budget in a peak season you have to start planning at least four months ahead.
Monsoon Season in Sikkim
The season starts from July and during this time the place looks ethereal. The hills look lush green, and Tista flows with her full rage. Tourist Hub India offers a North Sikkim group tour packages for 7 days to enjoy the beauty of hills in monsoon. However, it is always suggested to take the necessary cautions provided by the tour guide.
Winter Season in Sikkim
Winter starts from November and remains until February, and most parts of Sikkim receive light to heavy snowfall during those months. Places like Yumthang Valley and Gnathang Valley become spectacular. Besides witnessing snow-clad landscapes, several winter festivals are held at that time. One of the most popular festivals is the Red Panda Winter Carnival. It is also the off-season in Sikkim so you can get the rebates in hotels and resorts.
Our
Best Attraction in Sikkim Gangtok Group tour package
All
Best Attraction in Sikkim
Best Attraction in Darjeeling
Khecheolpalri Lake
Gangtok Ropeway
Zoological Park Gangtok
Kanchenjunga Fall
Pelling
Rabdentse Ruins
Rimbi Waterfall
Seven Sister Waterfalls
Tashi Viewpoint
Tsomgo Lake
Tsomgo Lake
Why Do You Visit Sikkim With Tourist Hub India?
More than words, we let our service speak for us. As a Gantok tour and travels and travel agency, we have provided our esteemed clienteles with an unmatched the Best Sikkim Gangtok Group tour package tour cost. We believe in the utmost customer satisfaction which is why we have a flexible and tailor made Bagdogra or NJP to Gangtok Sikkim Group tour package. "Safety and Comfort" is the foundation of Tourist Hub India which has helped us two thrive in this competitive travel business. As a part of our amazing tour, we provide:
The best accommodation facilities.

Delicious healthy breakfast, Dinner

Complete tour management.

Custom Sightseeing and Explore amazing places.

100% pocket friendly best North Sikkim group tour package cost.
How To Reach Sikkim?
Reaching Sikkim is easy as there are multiple routes. Depending on your convenience you can take any of the three routes discussed below.
How to Reach Sikkim by Air: Sikkim Travel Routes
Reaching Sikkim by air has become much easier since Pakyong Airport is now operational. It is located in Pakyong, and 35 km away from Gangtok. Besides that the second nearest airport is Bagdogra. The airport is 124 km from Gangtok. You can connect to the airport from any other metro cities of India.
The Commuting facility from the airport is quite good. Those who wish to fly to Sikkim from Bagdogra, can avail helicopter rides which take 20 minutes to reach to Gangtok.
How to Reach Sikkim by Train: Sikkim Travel Routes
Perhaps one of the most availed routes is the rail route. The budget travelers as well as the people who enjoy train rides often take this route. Sikkim itself has no railway service, so the nearest railway stations are New Jalpaiguri, and Siliguri. Siliguri is 145 km away from Gangtok, and New Jalpaiguri is 188 km away from the capital.
To connect to these two stations you will get plenty of trains from Sealdah and Howrah Railway Station. Transportation from the railway station is quite good, and cheaper as well. From both Siliguri and New Jalpaiguri, it takes 4 to 5 hours to reach Gangtok.
How to Reach Sikkim by Road: Sikkim Travel Routes
Gangtok is connected though several major cities. National Highway 31A is the prime route that connects to Gangtok. You will get regular bus services from Esplanade and Howrah to Gangtok. There are bus services from Bagdogra, Siliguri and Jalpaiguri as well.
People who love driving; they can also take their own car or hire a car to reach Gangtok. Besides cars, the highway is good for bike riding as well. If you wish to opt for a bike ride after reaching Siliguri or Jalpaiguri, you can easily rent a bike.
| From | To | Road Distance | Tentative Time |
| --- | --- | --- | --- |
| NJP Rly Station | Gangtok (via NH10) | 116.1 km | 4 hr 28 min |
| Bagdogra | Gangtok (via NH10) | 122.2 km | 4 hr 29 min |
| Gangtok | Lachen (via Gangtok-Chungthang Rd) | 114.0 km | 4 hr 38 min |
| Lachen | Lachung ( via Lachen Rd) | 46.9 km | 1 hr 51 min |
| Lachung | Yumthang | 25.1 km | 1 hr 20 min |
| Lachung | Gangtok (via Singtam - Chungthang Rd) | 115.7 km | 4 hr 22 min |
| Gangtok | Pelling (via NH10) | 129.6 km | 4 hr 27 min |
| Pelling | Ravangla (via NH510) | 47.8 km | 1 hr 49 min |
| Pelling | Namchi (via Nayabazar-Legship-Reshi Rd) | 68.3 km | 2 hr 25 min |
| Pelling | NJP (via NH10) | 133.2 km | 4 hr 53 min |
| Pelling | Bagdogra (via NH10) | 140.6 km | 4 hr 54 min |
How to Reach Sikkim from Kolkata by Train: Available Trains, Timing, From Sealdah/Howarh
| Train No | Train Name | Dep. Stn | Arr. Stn | Dep. Time | Arr. Time | Frequency |
| --- | --- | --- | --- | --- | --- | --- |
| 12343 | Darjeeling Mail | Sealdah (SDAH) | New Jalpaiguri Jn (NJP) | 22:05 | 08:15 | Daily |
| 12377 | Padatik Express | Sealdah (SDAH) | New Jalpaiguri Jn (NJP) | 23:00 | 09:15 | Daily |
| 13149 | Kanchan Kanya Express | Sealdah (SDAH) | New Mal Jn(NMZ) | 20:30 | 09:31 | Daily |
| 13147 | UttarBanga Express | Sealdah (SDAH) | Falakata (FLK) | 19:35 | 08:38 | Daily |
| 13141 | Teesta Torsa Express | Sealdah (SDAH) | New Maynaguri (NMX) | 13:40 | 04:22 | Daily |
| 12345 | SaraiGhat Express | Howrah (HWH) | New Jalpaiguri (NJP) | 15:50 | 01:40 | Daily |
| 12517 | Garib Rath | Kolkata (KOOA) | New Jalpaiguri (NJP) | 21:40 | 07:45 | Sun,Thu |
Places To Visit at Sikkim
Our Sikkim Group tour packages is incomplete without Gangtok sightseeing. Being the largest town in Sikkim, it is also the capital of the state. The city is a home for different ethnic communities like Lepcha, Bhutia, Gorkhas, etc. Owing to having pleasant climatic conditions throughout the year, it has become the centre of Sikkim's tourism industry.
Rumtek Monastery:
With brilliant architecture, Rumtek Monastery is just 23kms from Gangtok. It is one of the significant monasteries in the state. The monastery is also known as Dharmachakra Centre as it was believed that once the monastery belonged to the Karma Kagyu sect from Tibet. The monastery is a popular tourist attraction with a golden stupa, and a huge prayer hall. It is situated amidst a breathtaking landscape.
Timings: 6 AM to 6 PM.
Entry Fee: Rs10

Namgyal Institute of Tibetology:
Namgyal Institute of Tibetology is a hub of Buddhist culture. North Sikkim group tour packages includes a visit to this place for all tourists. It is a research center where studies on Tibet, and Buddhist culture and history are carried out. There is a museum and a library that preserves artifacts related to Tibetan culture. So, it is a must visit place for everyone who come to Sikkim.
Timings: 10 AM to 4 PM, Monday to Saturday
Entry Fee: Rs10

Phodong Monastery:
Phodong Monastery is one of the six monasteries in Gangtok. It is situated at 4500m height. It is a home for around 250 monks as it is a significant religious place. Besides its tranquility, the architecture of the building is one of the prime attractions.
Timings: 8 AM to 5 PM
Entry Fee: Free Entry

Nathula Pass
Tourist Hub India's Sikkim Gangtok Group tour package tour, Sikkim includes a tour to the India-China border. The border is located at 4310m altitude. It is 54kms away from gangtok. It is one of the most visited places in Sikkim. People are taken through a high-altitude motorable road to reach that altitude. The significance of the pass is that it is one of the trading border posts that connects China. The Indian nationals with proper permits are allowed to visit the place. It also connects China-Tibet Autonomous Regions. Due to high altitude the area receives heavy snowfall, which is why the best time to visit the place is between May to November.
Timings: 7 AM to 1:30 PM (Wednesday to Sunday)
Pass Permit: 200 rupees per person

Baba Harbhajan Singh Temple
While visiting Nathula Pass, tourists are taken to Baba Harbhajan Singh Temple, which is situated above 4000m of the sea level. It is a sacred place for Indian Army. The temple was built in the name of a martyred soldier, Harbhajan Singh. He lost his life in the Sino War, and it is believed that Baba Harbhajan Singh visits the shrine every night.
Timings: 8AM- 5 PM
Entry Fee: Free for all

Tsomgo Lake
Gangtok local sightseeing is incomplete without visiting Tsomgo Lake. It is a serene Himalayan lake that holds pristine water. The lake is situated 3753m above sea level, and during summer months the lake is surrounded by blooming flowers. As you experience blue water in summer, in winter you will find it frozen; so, in different seasons you will get a different view of the lake.
Timings: 7AM to 1:30 PM
Entry Fee: 200 rupees per person

Tashi Viewpoint
Sunrise and sunset in the hills are always mesmerizing. Tashi Viewpoint is a place where one can witness both celestial events. It is an ideal place to get an entire view of snow-capped Mt Kanchenjunga.
Timings: Early morning or evening
Entry Fee: Free for all

Himalayan Zoological Park People will never get an idea of the rare Himalayan animal species without paying a visit to Himalayan Zoological Park. It is located 3kims away from Gangtok city. In the Sikkim Group tour packages for 7 days Himalayan Zoological Park is the most interesting spot for both kids and adults. The zoological park conserves snow leopard cat, red panda, Himalayan palm civet, Himalayan black bear, etc. Timings: 9 AM to 4 PM Entry Fee: Indians – Rs 10 and Foreigners – Rs 50

Seven Sister Waterfalls
Waterfalls are often sighted in hills; but Seven Sister Waterfalls are incredible among all. There are seven streams gushing down through the cliffs making it spectacular. Although you will see four prominent streams, the rest are hidden. The spot is located 32kms away from Gangtok.
Timings:8 AM to 5 PM
Entry Fee:Free

Banjhakri Falls
Banjhakri Falls is another popular tourist attraction located 10-12kms from Gangtok. It is a very sacred place for the local people. The waterfall is located in a park so the natural beauty is a bonus that comes with the waterfall.
Timings:8 AM to 6 PM
Entry Fee:Rs 50
Permits Needed to Enter Sikkim
To enter Sikkim, you will need two types of permits, that are RAP and PAP.
Indians and locals can obtain both the passes from the local police check post.
Restricted Area Permit:
Foreigners will need to obtain the RAP from government agencies such as:
Ministry of Home Affairs, Delhi.

All Indian Missions abroad.

All Foreigners Registration Offices.

Immigration offices.

Deputy Director, SNT Complex, Siliguri.
Protected Area Permit:
PAP is issued to enter certain locations of Sikkim such as:
Tsomgo-Baba Mandir.

Nathu La Pass.

Dzongri Trek.

Singalila Trek.

Yumthang.

Yumesamdong.

Thangu-Chopta Valley.

Gurudongmar.
What Are Our Different Types of Holiday Packages?
Holiday AT Gangtok
Sikkim Gangtok Group tour package tour - FAQ
If you choose a Sikkim Gangtok Group tour package tour for 7 days, you will be able to cover both Sikkim gangtok and Darjeeling. We make sure that you cover most of the places under the package. The tour plan that we offer is not hectic, as you will get plenty of time to rest. Besides that you offer comfortable accommodation under budget. You will get all the details on our website, so visit Tourist Hub India right away.
Planning a Sikkim trip is easier with Tourist Hub India, as we offer the best North Sikkim group tour packages. We have details on our website, so you will get a fair idea from there. After going through our packages you need to decide which one you need to pick as per your convenience. We are flexible regarding our packages. You will get the idea of the exclusions and inclusions of our packages.
Sikkim Gangtok Group tour package trip cost, vary depending on various factors. The factors are your mode of transportation, your preference of hotel, food, and most importantly for how many days you are going to stay in Sikkim. Besides that, what region you are planning to visit also influences the Sikkim Travel Package Cost. Tourist Hub India excludes train/air fare, entry fees, and camera charges, etc. and provide you the customise Sikkim Package tour with Price.
Sikkim is a tiny state which is situated in the lap of Himalayas, it has a magnificent landscape. Due to its delightful natural beauty it attracts tourists throughout the year. However, March to June, and October to mid-December are considered as the best time to go for a Sikkim trip plan.
From March the spring season starts, so you can book a Gangtok Sikkim Group tour package with Tourist Hub India. Choosing the time is upon you as Sikkim changes its beauty in different seasons. During spring and summer the place becomes pleasant and these are the blooming seasons as well. On the other hand, in the monsoon Sikkim is filled with lush greenery. In winter parts of the state receives snowfalls, and during that time several winter festivals are held.
If you take our Sikkim Gangtok Group tour package tour for 3 days, you will be able to cover both Sikkim and Darjeeling. Sikkim and Darjeeling are both situated in the lap of Himalayas. So, both of the places are worth visiting. Even though there are many similarities in terms of people and culture, you will also find subtle differences in them. So, one should explore both the places to learn about the existing culture, and people.
Under Sikkim Gangtok Group tour package tour you will get different options. You need to contact the representative of Tourist Hub India. You will get a 7 days tour package as well as a 5 days tour package. We also offer a lucrative couple tour package; so, to get an idea of the available packages you need to visit our website.
Sikkim is a state that is diverse in terms of its natural beauty. Sikkim is divided into four districts- North Sikkim, South Sikkim, West Sikkim, and East Sikkim. Depending on the altitude, the geographical terrain also changes. If you want to see a valley full of flowers, you must visit Yumthang, if you want to see one of the highest lakes, you must visit Gurudongmar Lake. Besides its natural beauty, the place is strongly influenced by Buddhist culture. So, there are monasteries where you will find historical artifacts. You will be able to cover many of such places by opting for the Sikkim trip budget.
Sikkim Gangtok Group tour package tour plan is incomplete without trying authentic Sikkimese cuisine. At Gangtok there are several restaurants that serve local dishes, apart from that there are many options for street food as well. Dal and rice is the staple food for Sikkimese, apart from that Sael Roti, Churpi Soup, Dhindo, etc. are quite unique. Along with these there are Thukpa, Momo, etc.
At Tourist Hub India, you will get a budget North Sikkim group tour packages for 5 days where you can stay in Gangtok without spending much. The expense depends on how many days you are staying, what are the places you are visiting, where you are staying, and your food choices. Gangtok has budget hotels, and restaurants so one can afford a decent trip to Sikkim.
Sikkim trip packages for 5 days with Tourist Hub India will offer you to cover quite a few places. You need to visit our website, there you will be able to see all the packages. Firstly, you need to decide which part of Sikkim you want to visit. Once you are sure of the places, all you need is to pick a package and book it online.
Lachung is a tiny village situated in northeast Sikkim. North Gangtok tour packages include this place as from Lachung one has to connect to Yumthang. This place is worth visiting because it offers an amazing natural beauty. In winter you can experience snowfall, and during spring you will witness blooming flowers. Another attraction of Lachung is the Buddhist Monastery. Lachung is only connected by road from Gangtok, and cars need special permits for it.
Darjeeling is the northern district of West Bengal which is situated at the height of 2042m. The place rarely receives snowfall in winter. The temperature goes down up to -2 degree Celsius. According to records, Darjeeling received snowfall in 2008. However, Sandakphu being the highest point of West Bengal, witnesses snowfall every year. So, if you are someone who loves snow, you can plan a Gangtok tour packages with Tourist Hub India in winter because parts of Sikkim receive snowfall during December to February.
Gangtok Sikkim Group tour package Booking and Cancellation Policy :
Every Booking Would be Intimated through corporated emailm id.

Company Service Voucher Would be Issued to the Guest aginst the same.

50% advance payment (100% for super peak time) is required to get the confirmation.

100% Payment to be made before 3 days of Check In.

For any cancellation irrespective of no of days 15% charges will be levied.

25% of the Package amount to be levied if cancelled between 20- 07 days before Check in.

50% of the package amount to be levied If Cancelled between 07 – 03 days of Check in.

No Refund incase Of No show /Short Stay/or if Cancelled between 72 Hrs of Check in.

100% cancellation Charge once Booking is made for Super Peak Season.
North Sikkim group tour packages Reviews
4.9
Stars Rating, out of
5
based on
189
Reviews
Palash Debnath

Jan 15, 2021

Wonderful trip experience with Tourist Hub India at sikkim. Excellent arrangement of facilities like rooms, cars, drivers by them. Excellent communication for the operation executive daily basis about travel plans. it will highly recommendation from our end to other tourist for sikkim trip with Tourist Hub India.

Alkesh Patil

Dec 15, 2020

Excellent arrangement right from best hotels, car and polite cab drivers. We thank Tourist Hub India for making our trip sweet and memorable. I will recommend you for future sikkim trip with them. Everything has been proper planned and nice facilities in the whole trip.

Suman Kalyan Roy

Jan 01, 2018

The whole trip was well organised and hardly had any problems. pelling and ravanla hotels are good and also the facilities. choice of food and car driver was excellent, however the timing in pick up from bagdogra was delayed otherwise whole trip was fantastic.

Sujit Banerjee

Dec 25, 2018

We have got the good service and assistance from Tourist Hub India on an urgent basis sometime as Mr. Pulak was very co-operative, all the accomodations and cars was given excellent. The staff behaviour of all hotel in pelling and kaluk was nice and food was excellent and we had a great familiy trip with Tourist Hub India. .

We completed sucessfull trip in North sikkim for three days and thanks to Tourist Hub India for arranging worderfull sikkim trip for us and also the support regarding hotel, transportation and other arrangements for our family.