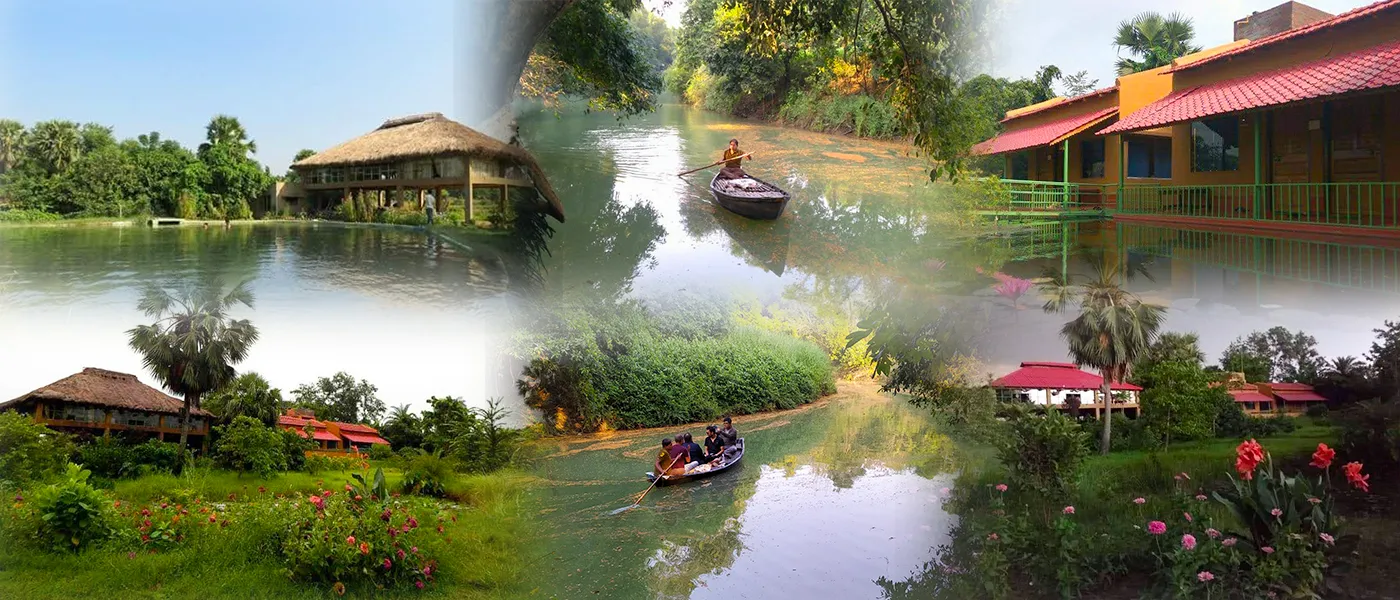 Belun Eco Village Resort Package Tour from Kolkata - Winter Spl
For belun eco resort booking in Winter Holidays? ☎ CALL: +919875465958
2 Nights
3 Days

Pickup:
Science City

Drop:
Science City

Start From
3000.00/per person
<
Belun Eco Village Resort is a nice place away from the hustle and bustle of city life. It's a serene destination away from 150km from Kolkata to relax with proximity to pure & fresh nature among awesome hospitality and Bengali cuisine. Baloon is an ideal spot to spend a weekend with different taste. Located on the bank of a small river called Shibai, a wide variety of natural inhabitants can be spotted there among which many of them are on the verge of extinction. An open air Jacuzzi with adjacent western toilet can give you thrill as well as a wild experience. Travel this beautiful place except monsoon. It's a wonderful weekend destination for nature lovers.


You will be also able to explore various amazing places of India throung our customised packages like North Sikkim Tour 2n/3d, Pelling Ravangla Gangtok tour from Bagdogra,Sundarban 2N/3d Tour, Silk Route Package Tour, North East Tour Package, Leh Ladakh Package Tour, Dooars Package Tour, Andaman Package Tour, North East Package Tour, Kashmir Package Tour and many more with your friends and family.
BELUN TOUR COST
The Belun tour price from kolkata is one of the famous and special weeked tour Kolkata. And, whether booking a tour, the thought of money always crossed all of your minds. However, the cost of our Belun tour will depend on the following factors-
● Itinerary you'll choose. ● Luxury you'll be comfortable. ● Vehicles you'll prefer. ● Activities you'll do. ● Duration of your tour.
| Packages | Duration | Rooms | Price (PH) |
| --- | --- | --- | --- |
| Belun tour 2n/3d | 2N/3D | DELUXE | 3000 |
| Belun tour 1n/2d | 1N/2D | DELUXE | 2500 |
DAY WISE BELUN ECO VILLAGE TOUR PLAN
To ensure your comfort and needs we planned the best itinerary of our Belun tour itinerary, we promise you that this trip will remain one of your best moments of life. So, let's have a glimpse-
Start your journey at early morning through the smooth Durgapur expressway. It's an amazing trip through the highway leaving behind the concrete jungle and strenuous work load. Today it's like an independence day from the confinement of the daily work routine. On the way give a peep into the famous sweet shops in Shaktigarh - specially The Lancha Bazar, Lancha Mahal. Taste the softness of the freshly made Lancha. Later proceed again towards your destination - The Belun Eco Village.

On arrival check-in the resort. Freshen up and enjoy your welcome drink, mainly freshly cut coconut or Nimbu pani with freshness of gandharaj lemon. Take a round trip of the resort. Explore everything and everywhere. This resort is equipped with open bathroom, a shower and free toiletries. It is a fitness centre, a spa and a wellness centre as well. The resort provides accommodation with a balcony also.

After strolling around the resort, come back, take bath in open air Jacuzzi. The adjacent open air western toilet can give you a wild experience also. Later sit together and enjoy your meal. If you wish, you can enjoy your lunch on the freshly cut banana leaf. It's almost a forgotten practice which you can revive in this Belun Eco Village Tour.

After lunch it's time to take rest. Later step outside of the resort. Take a walk bare foot on the soft lush grasslands. Proceed towards the Shibai River and try to identify local and migratory birds chirping on the branches. You can hire a bullock cart and roam around the entire village, see the village cultivation, the paddy fields, and the vegetable garden. You can't resist yourself from plucking up fresh vegetables and fruits from the field and enjoy them raw. As the sun set, come back to resort and enjoy your evening tea with hot snacks. Rest the time is free for leisure. Do whatever you wish. Play carom, listen to music, read a book, discuss or debate in a group on some topic. The time is yours. Enjoy it to full brim. Later enjoy dinner and a good sleep.



LIP SMACKING BREAKFAST FOR 2ND DAY KATWA JAL BARI TRIP
Welcome DrinksCoconut Water / Lemon Refreshing Drink on Arrival
Lunch At Boat/Resort - Plain Rice / Jeera Rice, Navratna Dal, Potato Fry, Mix Veg Curry, Doi Katla Fish, Paneer Curry (for Veg), Salad, Chatni, Papad, Sweet
Evening Snacks - hicken Pakora / Singara with Tea / Coffee
Dinner - Roti, Plain Rice / Fried Rice, Dal, Chicken Curry/Chilly Chicken, Kofta Curry (for Veg), Salad and Sweet

Try to rise early to behold the beautiful sun rise from a village horizon. It is completely different from the city. Take some deep breath. Inhale pure oxygen as much as you can. You can do Pranayama or Yogasana or Surya Namaskara. Later proceed to enjoy fresh Date Palm juice (Khejur Rosh) which you never can achieve in your city. This freshly harvested Date Palm juice is completely different to taste. Later proceed to the field to experience the morning activity.

Later come back to resort. Enjoy your tea and breakfast. Then around 11am start your return journey back to Kolkata via Durpapur expressway. Again take a halt at Shaktigarh. Buy some Lancha and famous Sita Bhog of Bardhaman. With a heart full of fun and freshness proceed towards your home. Tour ends with sweet memories.




Stay at Resort/Hotel
Trip time: 8am - 4.30pm
Breakfast - Hing Kachuri/Puri, Chana Masala, Banana, Sweet, Tea/Coffee

BELUN ECO VILLAGE RESORT TOUR INCLUSIONS:
→ Welcome Drink on arrival at resort
→ 1 Night accommodation in AC Double Room (Twin Sharing)
→ All transfer & sightseeing by AC D'Zire / Innova / Winger Car
→ Breakfast, Lunch & Dinner during the tour
→ complementary usage of Carom / Chessboard / Dartboard / Badminton
→ Driver accommodation, food, tol & parking
BELUN ECO VILLAGE RESORT TOUR PACKAGE EXCLUSIONS:
→ The things not mentioned in the inclusion section
→ Train Fare
→ Expenses of personal nature
→ All meals other than specified above
→ Any kind of soft drinks and hard drinks
→ Camera Charges
→ Tips / gratitudes.
→ Any activity outside of the resort
PLACES TO VISIT AT BELUN
Here are some offbeat places that you must include in your Belun eco village Tour
Shibai River: A small river to spot numerous species of birds, butterflies, reptiles and mammals. It's a great place to sit, relax and enjoy the village life with its pure natural beauty.

Choto Pukur A wetland, best place to watch animals and migratory birds like white-throated Kingfisher, Bramhiny Duck, Ruddy Shelduck and Wooly-necked stork. You can catch fish from the nearby lake and have freshly catch fish fry too.

Attahas Just 15km from Belun Eco Resort located one of the "Satipith" and pilgrimages of Hindus, the Attahas Satipith. It's a must visit place during Belun Resort Tour.

Nayachar: Nayachar is an island on the River Ganges just 20 km from Belun Eco Village. Many wildlife species and migratory birds can be spotted here.

Kalyanpur Ghat: Kalyanpur Ghat is located a little far from Belun Eco Village where traveller can spot the gangetic river dolphins.

Musharu village This village is also known as snake village as this is home of the venomous cobras, and snake charmer. One can visit there to explore the hard life of Snake Charmers in India.

Kalna This town is famous for 108 temples dedicated exclusively to Lord Shiva. This is must visit place for the guests Travelling Belun Eco Resort.
Belun Eco Village Resort
Deluxe Room
Tripple Bed/p>
WHAT IS THE BEST TIME TO TRAVEL BELUN ECO VILLAGE ?
According to suggestions by NatureWings, winter season comprising end of October to 1st week of March is the Best Time to Travel Belun Eco Village Resort. The chill weather with pleasant sun rays provides an ideal atmosphere to travel around Belun Eco Resort. So, if you are looking for a weekend away from your chaotic city life, this is a really nice place to relax. It's amazing.



WHY DO YOU BOOK BELUN ECO RESORT WITH TOURIST HUB INDIA?
Without any exaggeration, Tourist Hub will provide with you the best tranquillity that will be captured in your heart forever. But, before confiding us you know why we are one of the most loved travel agencies for this Belun Trip
→ The best accommodation facilities.
→ Delicious healthy breakfast, Lunch and Dinner
→ Complete tour management.
→ Custom Sightseeing and Explore tourist places.
→ 100% pocket friendly tour cost.
→ Doctor On Call on Trip
→ 100% Safety & Security
→ AC comfortable transportation, entertainment and celebration
→ 100% Covid Safety Guideline followed by Team
TIPS FOR BELUN TRIP FROM KOLKATA
→ photo ID proof with two photo copy is mendatory for your Belun Eco Village tour.
→ Bring woolen clothes specialy for the trip in winter.
→ Carry mobile charger, power bank
→ Keep adequate amount cash for your own expenses if required.
→ basic medicines for fever, cough, cold, stomach upset for your own safety.
WHAT ARE THE ACTIVITIES YOU CAN AVAIL DURING BELUN ECO VILLAGE TOUR FROM KOLKATA?
→ Boating
→ Outdoor pool.
→ Water sport facilities
→ Entertainment staff.
→ Open-air bath..
→ Fishing..
→ Children's playground.
HOW TO REACH BELUN ECO VILLAGE RESORT FROM KOLKATA
BY CAR :
Car is the best option to reach Belun Eco Village from Kolkata. By Delhi high way, Belun is nearly 175 Km. It will take roughly 3 hours 15 minutes to reach there through the smooth Durgapur Expressway via Bardhaman.
BY TRAIN :
One of the best option to reach Belun Eco Resort is by Local Train. For this Katwa will be the station you need to get down. From there hire a taxi or local Toto Rikshaw. It is another 15km journey through the scenic village beauty. Every day morning at 08.06hrs UP Katwa Local depart Sealdah Station and after crossing 38 stations it reaches Katwa at 11.45am. You can board on this train as per your preferable origination point to reach Katwa. There are lots of local train from Howrah Station also.
FOLLOWING ARE THE STATIONS FROM SEALDAH TO KATWA
Kolkata Sealdah → Bidhan Nagar → Dum Dum → Belgharia → Sodpur → Barrackpore → Palta → Ichhapur → Shyamnagar → Naihati Jn → Garifa → Hooghly Ghat → Bandel Jn → Bansh Baria → Tribeni → Kuntighat → Dumurdaha → Khamargachhi → Jirat → Balagarh → Somra Bazar → Behula → Guptipara → Ambika Kalna → Baghnapara → Dhatrigram → Samudragarh → Kalinagar → Nabadwip Dham → Bishnupriya → Bhandartikuri → Purbasthali → Mertala Phaleya → Lakshmipur → Belerhat → Patuli → Agradwip → Dainhat → Katwa



FOLLOWING ARE THE STATIONS FROM HOWRAH TO KATWA
>
Howrah Jn → Liluah → Belur → Bally → Uttarpara → Hind Motor → Konnagar → Rishra → Serampore → Seoraphuli → Baidyabati → Bhadreshwar → Mankundu → Chandan Nagar → Chuchura → Hooghly → Bandel Jn → Bansh Baria → Tribeni → Kuntighat → Dumurdaha → Khamargachhi →Jirat → Balagarh → Somra Bazar → Behula → Guptipara → Ambika Kalna → Baghnapara → Dhatrigram → Samudragarh → Kalinagar → Nabadwip Dham → Bishnupriya → Bhandartikuri → Purbasthali → Mertala Phaleya → Lakshmipur → Belerhat → Patuli → Agradwip → Sahebtala → Dainhat → Katwa




FACILITIES YOU CAN AVAIL IN BELUN ECO VILLAGE RESORT:
Your health and safety always come first to us, so here are the Covid precautions you'll get by us in this tour:
→ Breakfast in the room.
→ Lip smacking foods.
→ Local fruits to taste
→ Outdoor dining area.
→ Kid-friendly buffet, Kid meals, Picnic area.
→ Room service 24x7.
→ BBQ facilities, Beautiful Flower Garden, Entire unit on ground floor.
→ Non-smoking room, Restaurant with good chef.
→ Daily housekeeping, Facilities for disabled guests.
COVID PRECAUTIONS TO KEEP IN MIND FOR BELUN ECO VILLAGE TOUR FROM KOLKATA:
Your health and safety always come first to us, so here are the Covid precautions you'll get by us in this tour:
→ Thermal checking at the starting of the Tour.
→ Sanitized Cars & Boats.
→ Sanitized Rooms.
→ Availability of hand wash & Sanitizers.
→ Availability of masks like KN-95 & 3Ply.
→ Room cleaning by well-experienced staff.
DIFFERENT TYPES OF PACKAGES THAT WE PROVIDE
Find The Answer On Your Queries about Belun Tour
The distance between Kolkata to Belun Eco Resort is almost 147km. It takes almost 3 hr to reach there depending upon the road and weather conditions.
Yes, it is possible. You can come at Belun Resort for school or college excursion programme also like bird surveys, spiders and butterfly surveys, awareness campaign for snakes and other reptiles and fish surveys also.
If you have good amount of time, Belun Eco Village tour takes 2 nights and 3 days for a leisure travel. Else 1 night tour is also sufficient for from Kolkata.
Yes, you can visit by car. It takes almost 3 hr to reach there depending upon the road and weather and road conditions.
Yes, Belun eco resort is completely safe for tourists. It is one of the most popular places to visit near Kolkata.
Yes, you can visit belun eco resort for a day trip. However for the lunch you have to book the space as outside food not allowed inside the resort.
yes, wifi facilities are n available at the resot.
BELUN TOUR BOOKING ONLINE AND CANCELLATION POLICY:
→ Belun Eco resort booking Would be Intimated through corporated emailm id.
→ Company Service Voucher Would be Issued to the Guest aginst the same.
→ 50% advance payment (100% for super peak time) is required to get the confirmation.
→ 100% Payment to be made before 3 days of Check In.
→ For any cancellation irrespective of no of days 15% charges will be levied.
→ 25% of the Package amount to be levied if cancelled between 20- 07 days before Check in.
→ 50% of the package amount to be levied If Cancelled between 07 – 03 days of Check in.
→ No Refund incase Of No show /Short Stay/or if Cancelled between 72 Hrs of Check in.
→ 100% cancellation Charge once Booking is made for Super Peak Season.
BELUN TOUR REVIEWS
4.9
Stars Rating, out of
5
based on
148
Reviews
BELUN PACKAGE TOUR REVIEWS
It was a great trip for 2 night 3days trip at Belun jol bari with Tourist hub India. quality of food and taste was very good. nice resort and was very comfortable . thanks to all the staffs and coordinator. they are very gentle and gave us all the necessary service promptly..

Sohini Mukherjee

Dec 18, 2021

It was really awesome experience in Belun for 1 night. The trip guide was awesome and enjoyable. The quality of service, resort, food everything they are provided was really nice and also was a great experience overall.

Mrinalini Roy

Jan 01, 2021

Great experience and friendly manager and staff and tour cost of Rs. 5000/-PH for this package including all, I think its a great deal. The resort, food and rooms are also very nice..

Priyanka Ghosh

Dec 25, 2020

We had a family trip at Belu with tourist hub india and the tour plan for 2 days Belun tour was excellent, and the trip coordinator was well behaved and helpful. The food was good and the resort abiance was great. overall experience was great.

Sohini Dutta

Jan 15, 2021

Rooms were very nice and clean. Food was homely and well-cooked. The staffs were friendly and down to earth. I would mention Chhotu to name among them. it was an enjoyable trip.