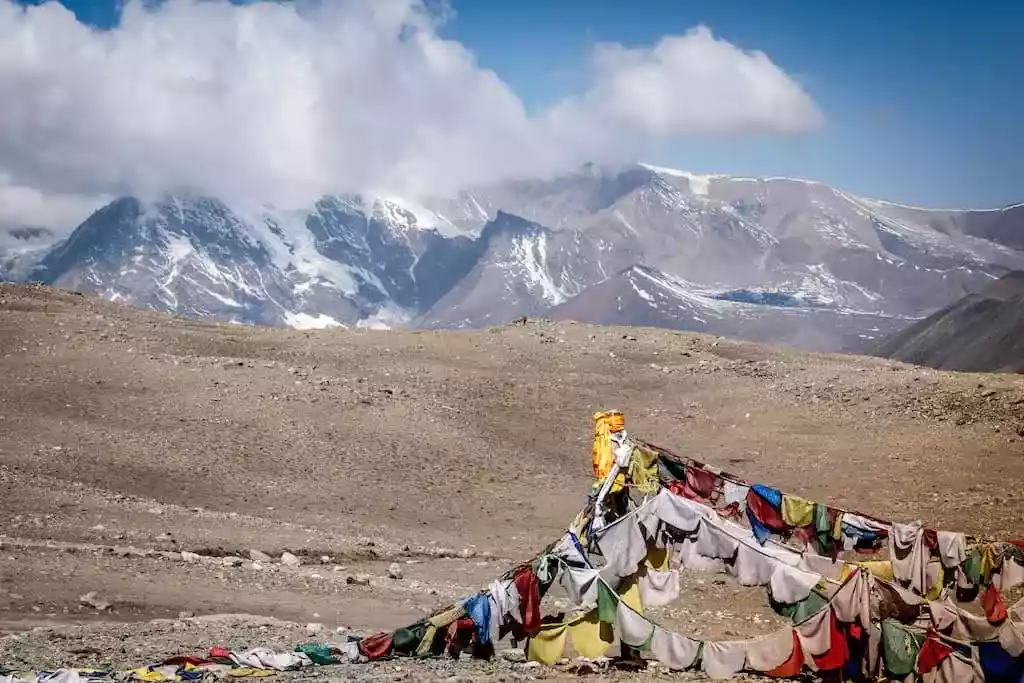 North Sikkim Tour Package: Visit the Land of Beauty and Adventure
Book Online- North Sikkim Package Tour
For Instant Booking Call : +91-9875-549076
3 Days
2 Nights

Pickup:
Gangtok

Drop:
Gangtok

Starting Price
7500.00 / person
Are you a mountain lover? North Sikkim Tour Package is perfect for you. It is designed to fulfil the desire of adventure junkies.
North Sikkim district has always been a mystery to the people. This is why over the years people keep visiting the place in order to explore it. The surreal landscape of the district is always enchanting to the tourists. This scenic hamlet also offers plenty of adventurous activities; which is why for your upcoming vacation North Sikkim Tour Package will be perfect.
North Sikkim 2nights 3days Tour Itinerary
While you are on your vacation for numbered days, it can be confusing to cover the northern part of the state. Tourist Hub India prepared an itinerary of North Sikkim Tour so that you can visit most of the popular places.
In the morning your journey will start for Lachen around 10 AM. It is almost a five-hour journey. Your journey will start around 10 am and on the way you will enjoy the scenic beauty of NH 31A. On your way you will get to see Seven Sister Waterfalls, Bhim Nala Waterfalls, and Kabi Longstok. You will have your lunch on the way and will be reaching Lachen in the evening. You will stay overnight at the Lachen homestay.
The Gurudongmar Lake Tour starts early in the morning; so, the homestay owner will arrange your breakfast so that you can have it on the way. The lake is situated 5,154 m above the sea level. After visiting the lake you will be brought back to the home stay, and after having lunch you will start off for Lachung. It is a 1 hr 55 min journey from Lachen. You will be staying that night at Lachen homestay.
Overnight Stay at Gangtok
On the fourth day you will be heading to Yumthang Valley excursion. You will leave after having your breakfast. It is a 25 kilometer journey, and from the valley you will also visit Zero Point (optional) and return for Gangtok in evening.
Overnight Stay at Gangtok
After your overnight stay at the capital city of Sikkim, it's time to move towards the remote and unspoiled corners of the state, Lachen and Lachung.
Fill up with food and plenty of water as it is going to be a 6 hours long journey. Our driver and agent will pick you up from the doorsteps of your hotel. Around 10 o'clock, we will depart for Lachen via the NH 31A.
Lachen is located at an altitude of 8838 ft in North Sikkim. On our way to Lachen, we will take stops to visit a few popular tourist attractions near Lachen such as Kabi Lungstok, Seven Sister Waterfall, Naga Waterfalls.
Once you reach the "Big Pass" , the literal meaning of Lachen, you will be escorted straight to your hotel where you can check into your cozy rooms, freshen up, and enjoy the rest of the day admiring the beauty from the luxurious rooms while enjoying some authentic Sikkimese delicacies.
Enjoy your overnight stay at Lachen,
Gurudongmar Lake is one of the holiest places of Sikkim. Located at an altitude of 17800 ft, it is a natural lake and a common place of worship for Buddhist and Hindus.
There's a myth surrounding Gurudongmar. Since the lake remains frozen throughout the year, despite being such a gigantic waterbody, it wasn't a suitable source for drinking water.
Once, when Guru Padmasambhava was travelling by this place while returning from Tibet, the locals pleaded for a source of drinking water. That is when Guru Padmasambhva touched a portion of the lake, and it is believed that portion he touched never gets frozen again even in extreme winter.
Many visitors fill up their bottles with the blessed water. You will be brought back to your hotel before lunch. Freshen up, have your lunch and check out from the hotel because it is time to visit Lachung.
Lachung is located at an elevation of 9600 ft. The word "Lachung'' means small pass and is one of the best places to visit in Sikkim near the Tibetian border.
You will reach the location by evening. So, you will need to check in as soon as you reach and enjoy the breathtaking views of the mountains from your cozy rooms. Beverage and snacks will be served on arrival.
You can enjoy some hot thukpa or momos to warm your body in the freezing cold temperature. Experience the view of the moonlight resting on the mountain tops as your dinner gets ready. Enjoy your overnight stay at one of our best Lachung homestays and resorts.
Overnight Stay at Lachung
Wake up early to enjoy a breathtaking view of the golden sunrise from your hotel room. Enjoy your hot breakfast and get ready for your Yumthang valley exploration.
Post breakfast, we will leave for Yumthang valley excursion and then will drive back to Gangtok.
Yumthang valley is also known as the Valley of Flowers as it is home to more than 24 species of Rhododendron. May is the best time to visit Yumthang as that is when the flowers bloom.
At Yumthang you will find hot springs, lazy yaks lying around grazing around the lush green meadows, and a variety of flora and fauna. From here, we will either visit Zero Point or drive back straight downwards Gangtok which is subjected to additional cost, permit, and road condition.
Check in to your hotel once we reach Gangtok, freshen up, and enjoy your overnight stay.
Overnight Stay at Gangtok
On the seventh day, after breakfast we will drive you to Pelling. It is around 5.5 hours by car. Lunch will be served on the way to Pelling. You will get to see amazing scenic beauty of the snow-capped mountains, Tista River, and pine forests on the way. After reaching Pelling, you will stay overnight at our Pelling resort.
Overnight Stay at Pelling
Post breakfast, we will take you for local sightseeing at Pelling. We will visit the best places to visit in Pelling such as Kanchenjunga waterfalls, Rimbi waterfalls, helipad ground, PemaYangtse monastery, Khecheopalri Lake, etc. After completing sightseeing we will bring you back to the hotel where you stay overnight.
After breakfast we will drive you to Darjeeling. Your sikkim darjeeling gangtok tour package will start with a four hours long drive where you can savor the scenic beauty of the road. Our representative will help you to check in at the hotel where you will freshen up and have your lunch. In the evening you can stroll on Darjeeling mall, and stay overnight at the hotel.
Overnight Stat at Darjeeling
For the sunrise we will take you to Tiger Hill around 4 AM. After witnessing a spectacular sunrise you will visit Batasia Loop, and Ghoom Monastery. After having breakfast you will visit Japanese Temple followed by the Zoological Park, Mountaineering Institute, Peace Pagoda, Chitrey Tea Garden, etc., which are all included in your sikkim darjeeling tour packages. At night you will have dinner at the hotel and stay overnight.
Overnight Stay at Darjeeling
After having a sumptuous breakfast you will check out from the hotel. Our representative will drive you back to your preferred departure point.
Sikkim Tour Package Inclusion:
Comfortable accommodation

Breakfast, Snack, Dinner

Private vehicle.

24/7 support from Tourist Hub India team
Sikkim Tour Package Exclusion:
Any item that is not on the inclusion list

Lunch and other meals

Entry fees

Permit fee, toll tax, parking fee

Personal expenses
Sikkim Tour Package Cost?
packages
Duration
Rooms
Starting Price
GST
Gangtok with Lachen Lachung
2N/3D
STD/DELUXE/COTTAGE
Rs. 8,500/-
Gangtok with Lachen Lachung and Pelling
4N/5D
STD/DELUXE/COTTAGE
Rs. 15,500/-
North Sikkim Tour
5N/6D
STD/DELUXE/COTTAGE
Rs. 12,500/-
Sikkim Tour With Pelling and Darjeeling
5N/6D
STD/DELUXE/COTTAGE
Rs. 11,200/-
Sikkim Tour With Gangtok+Pelling+Darjeeling
10N/11D
STD/DELUXE/COTTAGE
Rs, 20,800/-
Best Time to Book North Sikkim Tour Package
According to us, who have been providing some of the best North Sikkim tour packages for years, the best time to opt for the North Sikkim Package Tour is between March to June, and October to December.
The Northern part of the state changes colour with every season. During the spring which starts from the end of March and remains until February end, during that time Yumthang valley becomes lush green and for being the blooming season you will witness Rhododendrons flowers, Poppies, and Primulas flowers.
During spring Gurudongmar Lake remains accessible. And you will witness a magnificent landscape where the sky touches the water. Winter starts in December and remains until mid-March. If you want to experience snowfall winter is the best for you. Summer in North Sikkim is pleasant, during that time the place receives maximum footfall in the year.
Summer Season in North Sikkim
Summer in the mountains is pleasant and Sikkim is no different. It is considered to be the best time to visit Sikkim. Summer starts from mid-March and stays until June; in summer people flock to the state during these months. During summer West Sikkim is the best place to visit as the temperature remains around 10°C to 21°C.
Since summer is the peak season to visit Sikkim, Tourist Hub India suggests you to plan your Sikkim tour early. For a Sikkim trip budget in a peak season you have to start planning at least four months ahead.
Monsoon Season in North Sikkim
The season starts from July and during this time the place looks ethereal. The hills look lush green, and Tista flows with her full rage. Tourist Hub India offers a Sikkim tour package for 7 days to enjoy the beauty of hills in monsoon. However, it is always suggested to take the necessary cautions provided by the tour guide.
Winter Season in North Sikkim
Winter starts from November and remains until February, and most parts of Sikkim receive light to heavy snowfall during those months. Places like Yumthang Valley and Gnathang Valley become spectacular. Besides witnessing snow-clad landscapes, several winter festivals are held at that time. One of the most popular festivals is the Red Panda Winter Carnival. It is also the off-season in Sikkim so you can get the rebates in hotels and resorts.
Our
Best Attraction in Sikkim Darjeeling Tour Package
All
Best Attraction in Sikkim
Best Attraction in Darjeeling
Khecheolpalri Lake
Gangtok Ropeway
Zoological Park Gangtok
Kanchenjunga Fall
Pelling
Rabdentse Ruins
Rimbi Waterfall
Seven Sister Waterfalls
Tashi Viewpoint
Tsomgo Lake
Tsomgo Lake
Why Do You Visit North Sikkim With Tourist Hub India?
More than words, we let our service speak for us. As a Sikkim tour and travel agency, we have provided our esteemed clienteles with an unmatched the Best Sikkim Tour Packages Cost. We believe in the utmost customer satisfaction which is why we have a flexible and tailor made Bagdogra or NJP to Sikkim Tour packages. "Safety and Comfort" is the foundation of Tourist Hub India which has helped us two thrive in this competitive travel business. As a part of our amazing tour, we provide:
The best accommodation facilities.

Delicious healthy breakfast, Dinner

Complete tour management.

Custom Sightseeing and Explore amazing places.

100% pocket friendly best North Sikkim tour cost.
Distance to reach North Sikkim?
Reaching Sikkim is easy as there are multiple routes. Depending on your convenience you can take any of the three routes discussed below.
How to Reach Sikkim by Air: Sikkim Travel Routes
Reaching Sikkim by air has become much easier since Pakyong Airport is now operational. It is located in Pakyong, and 35 km away from Gangtok. Besides that the second nearest airport is Bagdogra. The airport is 124 km from Gangtok. You can connect to the airport from any other metro cities of India.
The Commuting facility from the airport is quite good. Those who wish to fly to Sikkim from Bagdogra, can avail helicopter rides which take 20 minutes to reach to Gangtok.
How to Reach Sikkim by Train: Sikkim Travel Routes
Perhaps one of the most availed routes is the rail route. The budget travelers as well as the people who enjoy train rides often take this route. Sikkim itself has no railway service, so the nearest railway stations are New Jalpaiguri, and Siliguri. Siliguri is 145 km away from Gangtok, and New Jalpaiguri is 188 km away from the capital.
To connect to these two stations you will get plenty of trains from Sealdah and Howrah Railway Station. Transportation from the railway station is quite good, and cheaper as well. From both Siliguri and New Jalpaiguri, it takes 4 to 5 hours to reach Gangtok.
How to Reach Sikkim by Road: Sikkim Travel Routes
Gangtok is connected though several major cities. National Highway 31A is the prime route that connects to Gangtok. You will get regular bus services from Esplanade and Howrah to Gangtok. There are bus services from Bagdogra, Siliguri and Jalpaiguri as well.
People who love driving; they can also take their own car or hire a car to reach Gangtok. Besides cars, the highway is good for bike riding as well. If you wish to opt for a bike ride after reaching Siliguri or Jalpaiguri, you can easily rent a bike.
| From | To | Road Distance | Tentative Time |
| --- | --- | --- | --- |
| NJP Rly Station | Gangtok (via NH10) | 116.1 km | 4 hr 28 min |
| Bagdogra | Gangtok (via NH10) | 122.2 km | 4 hr 29 min |
| Gangtok | Lachen (via Gangtok-Chungthang Rd) | 114.0 km | 4 hr 38 min |
| Lachen | Lachung ( via Lachen Rd) | 46.9 km | 1 hr 51 min |
| Lachung | Yumthang | 25.1 km | 1 hr 20 min |
| Lachung | Gangtok (via Singtam - Chungthang Rd) | 115.7 km | 4 hr 22 min |
| Gangtok | Pelling (via NH10) | 129.6 km | 4 hr 27 min |
How to Reach North Sikkim from Kolkata by Train: Available Trains, Timing, From Sealdah/Howarh
| Train No | Train Name | Dep. Stn | Arr. Stn | Dep. Time | Arr. Time | Frequency |
| --- | --- | --- | --- | --- | --- | --- |
| 12343 | Darjeeling Mail | Sealdah (SDAH) | New Jalpaiguri Jn (NJP) | 22:05 | 08:15 | Daily |
| 12377 | Padatik Express | Sealdah (SDAH) | New Jalpaiguri Jn (NJP) | 23:00 | 09:15 | Daily |
| 13149 | Kanchan Kanya Express | Sealdah (SDAH) | New Mal Jn(NMZ) | 20:30 | 09:31 | Daily |
| 13147 | UttarBanga Express | Sealdah (SDAH) | Falakata (FLK) | 19:35 | 08:38 | Daily |
| 13141 | Teesta Torsa Express | Sealdah (SDAH) | New Maynaguri (NMX) | 13:40 | 04:22 | Daily |
| 12345 | SaraiGhat Express | Howrah (HWH) | New Jalpaiguri (NJP) | 15:50 | 01:40 | Daily |
| 12517 | Garib Rath | Kolkata (KOOA) | New Jalpaiguri (NJP) | 21:40 | 07:45 | Sun,Thu |
The Best Attractions of North Sikkim
The North Sikkim Tour Package is increasingly popular among the mountain lovers. The northern side of the state is full of surprises. So, let's take a quick look at the best places to visit.
Gurudongmar Lake:
Gurudongmar Lake is one of the best attractions of the North Sikkim Tour Package. Situated at the height of 17,800 feet you will see a breathtaking view of Himalaya. This place is considered sacred for both Buddhists and Hindus. Also the place is associated with local legend. People get attracted towards its breathtaking beauty.

Yumthang Valley:
Tourist Hub India includes Yumthang Valley in their North Sikkim Tour Package. It is one of the scenic places of the state. In winter the valley turns white due to heavy snowfall, and it becomes green during summer. The valley is famous for flowers, and it started blooming in spring.

Shingba Rhododendron Sanctuary:
It is located in the Yumthang Valley, and it is a magical place according to the local people. Its magic starts after winter when the flowers start blooming in the valley. The place promises picturesque beauty in spring and summer. In the spring season Rhododendron starts blooming and the valley becomes enchanted by its beauty.

Yume Samdong or Zero Point
In the North Sikkim Tour Package after Yumthang Valley you will be taken to Zero Point. It is situated at a height of 15,300 feet. The best part of the trip is the thrilling drive from the valley. It takes one hour to reach Yume Samdong.

Lachen
Lachen is a tiny village in the lap of Himalaya. The village is inhabited by a handful of people. You will get to wooden huts and green pastures which will give a hint of the livelihood of the people. The village is a treat to your eyes and it is a paradise for the birdwatchers.

Seven Sister Waterfalls
As the name suggests Seven Sister Waterfalls is a confluence of seven different water streams gushing through the rocks. It gives a thrilling view as the place is surrounded by magnificent beauty.


Bhim Nala Falls
While you are travelling to Lachung you will find Bhim Nala Falls on the way. This waterfall is a delight to the eyes. The specialty of the waterfall is its impressive height. There is a charge for entering into the campus which is 10 rupees per person.

Himalayan Zoological Park People will never get an idea of the rare Himalayan animal species without paying a visit to Himalayan Zoological Park. It is located 3kims away from Gangtok city. In the Sikkim tour package for 7 days Himalayan Zoological Park is the most interesting spot for both kids and adults. The zoological park conserves snow leopard cat, red panda, Himalayan palm civet, Himalayan black bear, etc. Timings: 9 AM to 4 PM Entry Fee: Indians – Rs 10 and Foreigners – Rs 50

Chopta Valley
We have designed a North Sikkim Tour Package where you will be able to visit small pockets of the place. Chopta Valley is a small pocket located in the North Sikkim district. It is situated at a height of 13,200 feet and the place has a religious importance.

Lachung Monastery
When at Lachung you cannot miss out on Lachung Monastery. It is considered as one of the prime destinations of 2N 3D North Sikkim Package. It is located in a picturesque landscape. The famous mask dance is held here every year.

Lachung
Lachung is a scenic hamlet located in the northern part of the state. Due to its serene natural beauty the place attracts tourists throughout the year. The place is surrounded by mountains, and gorgeous waterfalls.
Things You Must Carry for the North Sikkim Tour Package
You need to carry your photo ID.

Protected Area Permits are essential to carry.

While you are heading to Lachung and Lachen you need to carry cash as there are no ATM services.
Protected Area Permit:
PAP is issued to enter certain locations of Sikkim such as:
Tsomgo-Baba Mandir.

Nathu La Pass.

Dzongri Trek.

Singalila Trek.

Yumthang.

Yumesamdong.

Thangu-Chopta Valley.

Gurudongmar.
COVID 19 Precautions During Travel To North Sikkim:
We will provide Face Mask & Sanitizer for all tourists in the tour.

Sanitization process maintained by our trained staff before check in and check out.

Sanitizer is also available in every room and restaurant.

Transportation vehicle is also fully sanitized by our own staff.
Sikkim Tourism Covid Guidelines:
Sikkim is allowing only fully vaccinated travellers to enter the state. The regulation was passed on July 5. There is no requirement for RT-PCR test results for travellers who have received both doses of vaccine. It is highly recommended to refer the current updates of Covid19 guidelines to enter Sikkim by the Sikkim Government.
What Are Our Different Types of Holiday Packages?
Holiday AT Sikkim
Find The Answer On Your Queries
If you choose a Sikkim tour package for 7 days, you will be able to cover both Sikkim and Darjeeling. We make sure that you cover most of the places under the package. The tour plan that we offer is not hectic, as you will get plenty of time to rest. Besides that you offer comfortable accommodation under budget. You will get all the details on our website, so visit Tourist Hub India right away.
Planning a Sikkim trip is easier with Tourist Hub India, as we offer the best Sikkim tour package. We have details on our website, so you will get a fair idea from there. After going through our packages you need to decide which one you need to pick as per your convenience. We are flexible regarding our packages. You will get the idea of the exclusions and inclusions of our packages.
Sikkim tour packages Gangtok, Sikkim vary depending on various factors. The factors are your mode of transportation, your preference of hotel, food, and most importantly for how many days you are going to stay in Sikkim. Besides that, what region you are planning to visit also influences the total cost of a trip. Tourist Hub India excludes train/air fare, entry fees, and camera charges, etc.
Sikkim is a tiny state which is situated in the lap of Himalayas, it has a magnificent landscape. Due to its delightful natural beauty it attracts tourists throughout the year. However, March to June, and October to mid-December are considered as the best time to go for a Sikkim tour plan.
From March the spring season starts, so you can book a Sikkim tour package with Tourist Hub India. Choosing the time is upon you as Sikkim changes its beauty in different seasons. During spring and summer the place becomes pleasant and these are the blooming seasons as well. On the other hand, in the monsoon Sikkim is filled with lush greenery. In winter parts of the state receives snowfalls, and during that time several winter festivals are held.
If you take our Sikkim tour package for 7 days, you will be able to cover both Sikkim and Darjeeling. Sikkim and Darjeeling are both situated in the lap of Himalayas. So, both of the places are worth visiting. Even though there are many similarities in terms of people and culture, you will also find subtle differences in them. So, one should explore both the places to learn about the existing culture, and people.
Under Sikkim tour package you will get different options. You need to contact the representative of Tourist Hub India. You will get a 7 days tour package as well as a 5 days tour package. We also offer a lucrative couple tour package; so, to get an idea of the available packages you need to visit our website.
Sikkim is a state that is diverse in terms of its natural beauty. Sikkim is divided into four districts- North Sikkim, South Sikkim, West Sikkim, and East Sikkim. Depending on the altitude, the geographical terrain also changes. If you want to see a valley full of flowers, you must visit Yumthang, if you want to see one of the highest lakes, you must visit Gurudongmar Lake. Besides its natural beauty, the place is strongly influenced by Buddhist culture. So, there are monasteries where you will find historical artifacts. You will be able to cover many of such places by opting for the Sikkim trip budget.
Sikkim tour plan is incomplete without trying authentic Sikkimese cuisine. At Gangtok there are several restaurants that serve local dishes, apart from that there are many options for street food as well. Dal and rice is the staple food for Sikkimese, apart from that Sael Roti, Churpi Soup, Dhindo, etc. are quite unique. Along with these there are Thukpa, Momo, etc.
At Tourist Hub India, you will get a budget Sikkim tour package for 5 days where you can stay in Gangtok without spending much. The expense depends on how many days you are staying, what are the places you are visiting, where you are staying, and your food choices. Gangtok has budget hotels, and restaurants so one can afford a decent trip to Sikkim.
Sikkim tour package for 5 days with Tourist Hub India will offer you to cover quite a few places. You need to visit our website, there you will be able to see all the packages. Firstly, you need to decide which part of Sikkim you want to visit. Once you are sure of the places, all you need is to pick a package and book it online.
Lachung is a tiny village situated in northeast Sikkim. North Sikkim tour packages include this place as from Lachung one has to connect to Yumthang. This place is worth visiting because it offers an amazing natural beauty. In winter you can experience snowfall, and during spring you will witness blooming flowers. Another attraction of Lachung is the Buddhist Monastery. Lachung is only connected by road from Gangtok, and cars need special permits for it.
Darjeeling is the northern district of West Bengal which is situated at the height of 2042m. The place rarely receives snowfall in winter. The temperature goes down up to -2 degree Celsius. According to records, Darjeeling received snowfall in 2008. However, Sandakphu being the highest point of West Bengal, witnesses snowfall every year. So, if you are someone who loves snow, you can plan a Sikkim tour package with Tourist Hub India in winter because parts of Sikkim receive snowfall during December to February.
Sikkim Tour Booking and Cancellation Policy :
Every Booking Would be Intimated through corporated emailm id.

Company Service Voucher Would be Issued to the Guest aginst the same.

50% advance payment (100% for super peak time) is required to get the confirmation.

100% Payment to be made before 3 days of Check In.

For any cancellation irrespective of no of days 15% charges will be levied.

25% of the Package amount to be levied if cancelled between 20- 07 days before Check in.

50% of the package amount to be levied If Cancelled between 07 – 03 days of Check in.

No Refund incase Of No show /Short Stay/or if Cancelled between 72 Hrs of Check in.

100% cancellation Charge once Booking is made for Super Peak Season.
Guest Reviews
Palash Debnath

Jan 15, 2021

Wonderful trip experience with Tourist Hub India at sikkim. Excellent arrangement of facilities like rooms, cars, drivers by them. Excellent communication for the operation executive daily basis about travel plans. it will highly recommendation from our end to other tourist for sikkim trip with Tourist Hub India.

Alkesh Patil

Dec 15, 2020

Excellent arrangement right from best hotels, car and polite cab drivers. We thank Tourist Hub India for making our trip sweet and memorable. I will recommend you for future sikkim trip with them. Everything has been proper planned and nice facilities in the whole trip.

Suman Kalyan Roy

Jan 01, 2018

The whole trip was well organised and hardly had any problems. pelling and ravanla hotels are good and also the facilities. choice of food and car driver was excellent, however the timing in pick up from bagdogra was delayed otherwise whole trip was fantastic.

Sujit Banerjee

Dec 25, 2018

We have got the good service and assistance from Tourist Hub India on an urgent basis sometime as Mr. Pulak was very co-operative, all the accomodations and cars was given excellent. The staff behaviour of all hotel in pelling and kaluk was nice and food was excellent and we had a great familiy trip with Tourist Hub India. .

We completed sucessfull trip in North sikkim for three days and thanks to Tourist Hub India for arranging worderfull sikkim trip for us and also the support regarding hotel, transportation and other arrangements for our family.