Book Zuluk Tour Package - 2023 Spl Best Rate
5Nights
6Days

Pickup:
NJP/Bagdogra

Drop:
NJP/Bagdogra

Start From
8500.00/per person
The Silk Route, also known as the Old Silk Route, is a historic trade route that passes through the rugged terrain of the Himalayas and connects Tibet with India's eastern state of Sikkim. The route was used for trade between India and Tibet from ancient times until the Chinese invasion of Tibet in 1950.
The Silk Route is famous for its breathtaking scenic beauty, snow-capped peaks, gushing waterfalls, and high-altitude lakes. The route passes through several picturesque locations such as Zuluk, Nathang Valley, Kupup, and Tsomgo Lake. The route is also home to several species of flora and fauna.
The Sikkim Silk Route has become a popular tourist destination in recent years, with visitors from all over the world flocking to the region to experience its natural beauty and learn about its history. The region offers a unique blend of adventure, history, and culture, making it an ideal destination for those seeking an offbeat travel experience.
Visitors can engage in activities such as trekking, camping, bird watching, and photography. They can also interact with the local communities and learn about their unique culture and traditions.
So, this is high time that you book a package for Zuluk Tour with Tourist Hub India that brings to to those who want to explore the hidden gems of Sikkim..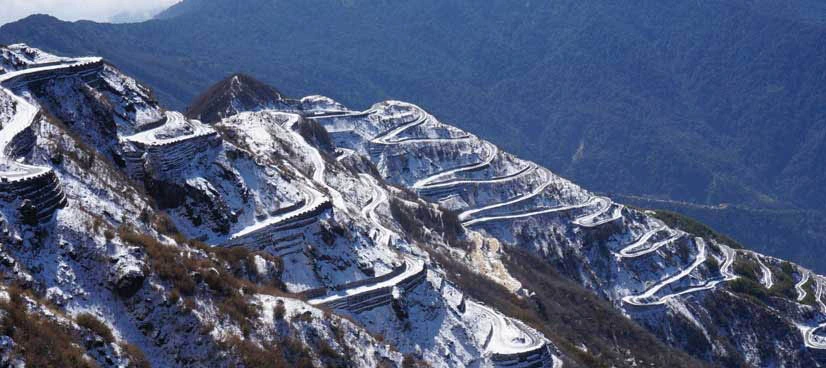 WHICH IS THE BEST TIME TO TRAVEL AT SILK ROUTE?
If you want to book a Zuluk Package Tour with Tourist Hub India, we ask you to choose a time between October to May. The place experiences the maximum influx of tourists during that time. If you want sunny and pleasant weather, March to June is the ideal time. During that time the temperature remains around 9°C to 16°C. If you want to experience snow then, December to February is the ideal time for you, during that time the temperature remains around -5° C to 8° C.

ZULUK TOUR PLAN
Besides its rich historical significance, one cannot deny the natural beauty that it beholds. Being located in a remote area, the place does not receive much footfall which eventually helps to maintain its tranquility. If you are planning to spend a quiet time amidst Himalaya, we offer a Zuluk Tour Package for your up-coming vacation..

Zuluk Tour Iitinerary is designed in a way so that you can cover places that come on the way. So, here is the complete itinerary of the Silk route trip.
The first day Once you reach Siliguri, you will be welcomed by our representative. For the Silk Route Tour, the starting point is Sillery Gaon which is located 10 kilometers away from Delo, Kalimpong. SilleryGaon is a delight of nature; after reaching the destination you will spend the night at the home stay.


Night Stay at Sillery Gaon
Trip time: 8am - 4.30pm
Your second day of the Sikkim Silk route package will start with freshly made breakfast. After having a warm breakfast you will leave for Aritar or Mankim to see Lampokhari Lake. It is located at the altitude of 1,498 m and considered as the highest lake of Sikkim. You will get time for boating on the lake. Post lunch you will be visiting Aritar Monastery, Mankhim Temple, Mankhim ViewPoint, and Aritar Dak Bungalow.


Stay at Resort/Hotel
Trip time: 8am - 4.30pm
On the third day of the Silk Route tour, you will be visiting Zuluk village. The day will start after having a sumptuous breakfast at your home stay. On the way to the village, you will be stopping at Lingtam, Lingtam Monastery, Rongli Dam, and Kuekhola Falls. At night you will be staying at Zuluk Homestay.


Stay at Resort/Hotel
Trip time: 8am - 4.30pm
The day will start with a stunning sunrise at Lungthung Viewpoint. After having a delicious breakfast at the home stay you will head to Nathan valley and one the way you will be seeing Thambi viewpoint, Lungthung, Zig Zag road, Old Baba Mandir, Jelep La Pass view, and Yak golf Course. Your night will be spent at the home stay at Nathang valley.


Stay at Resort/Hotel
Trip time: 8am - 4.30pm

On the fifth day after having breakfast you will embark on the Rishikhola Tour. The place is located at the height of 6,000 ft. You will be having your launch at the riverside while witnessing serenity of the river. In the evening you will check in at Rishikhola Homestay where you will be spending the last night of the trip.


Stay at Resort/Hotel
Trip time: 8am - 4.30pm
On the fifth day after having breakfast you will embark on the Rishikhola Tour. The place is located at the height of 6,000 ft. You will be having your launch at the riverside while witnessing serenity of the river. In the evening you will check in at Rishikhola Homestay where you will be spending the last night of the trip.


Stay at Resort/Hotel
Trip time: 8am - 4.30pm
After having your breakfast you will be headed to NJP/Siliguri/Bagdogra as this is the last ride of your Silk Route Travel Package.


Zuluk Package Tour INCLUSION:
→ Accommodation at the listed home stays
→ All meals (Breakfast, lunch, evening snacks, and dinner)
→ Exclusive vehicle for transfer service
→ All permits and taxes
Zuluk Trip EXCLUSION:
→ Things which are not on the inclusion list
→ Charges for room heater
→ Syndicate charge at Siliguri
→ Entry fees for Pangolakha Wildlife Sanctuary and sunrise from Lungthung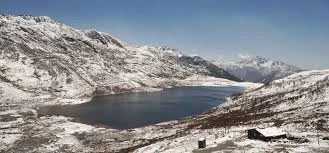 Zuluk Tour Cost
Zuluk Trip cost depends upon the type of transportation, number of guests and catagories of rooms catagories. Here are some of the best budget-friendly ranges of Zuluk Tour Price. We offer different kinds of standard homestay and also deluxe properties for valuable travellers which are as follows:
| Packages | Duration | Rooms | Price |
| --- | --- | --- | --- |
| Silk Route Tour 6n/7d | 6n/7d | STD/DELUXE/ | 6500/8500 |
| Silk Route Tour 4n/5d | 4N/5D | STD/DELUXE | 8500/10500 |
| Silk Route Tour 6n/7d | 6N/7D | STD/DELUXE | 11000/14500 |
OUR OTHERSILK ROUTE PACKAGES:
We also offer the services of other Silk Route Package as mentioned below.
Why Do You Visit Zuluk With Tourist Hub India?
More than words, we let our service speak for us. As a Silk route tour operator from Kolakta, we have provided our esteemed clienteles with an unmatched the Best Zuluk Tour Package Cost. We believe in the utmost customer satisfaction which is why we have a flexible and tailor made Zuluk Package tour and easy online 6n7d silk rotebooking system. As we are a trusted Silk route tour operator in Kolkata "Safety and Comfort" is the foundation of Tourist Hub India which has helped us two thrive in this competitive travel business. We have sucsessfully completed and have so many happy guest last five years. As a part of our amazing Sikkim Silk route packages, we provide:
→ The best accommodation facilities.
→ Delicious healthy breakfast, Lunch and Dinner
→ Complete tour management.
→ Custom Sightseeing and Explore amazing places.
→ 100% pocket friendly Zuluk Package Cost.
→ Doctor On Call on Trip
→ 100% Safety & Security
→ Best Zuluk Package Itinerary.
→ AC comfortable transportation, entertainment and celebration
→ 100% Covid Safety Guideline followed by Team
Tips for Zuluk Tour Package
The significance of Silk Route Package Tour offered by Tourist Hub India is not for the people who look for comfort and luxury in the places. The entire region is relatively remote; thus, amenities are limited. Here are a few things that you need to consider if you are willing to explore the region
→ The places that are included in the silk route travel package are mostly remote so you should not expect modern facilities. The home stays will provide you with basic amenities which are comfortable. There will be no internet connection, luxury furniture, and television with cable connection.
→ As the place is remote, finding an ATM is hard. So, we suggest you carry enough cash for emergencies.
→ You will be travelling to a high security zone of India and that is why you need to carry your original photo ID along with you.
→ The weather condition is relatively harsh in that region so you must carry woolen clothes, and necessary medicines.
→ While you are travelling to a high altitude region like Nathag valley, we ask you to refrain from consuming liquor.
→ The altitude is not favorable for elderly people and children; so we suggest deferring from buying Silk Route Zuluk Trip Package if you are not physically fit or accompanying someone who is too young or old.
→ Basic medicines for fever, cough, cold, stomach upset for your own safety
→ Lastly, Sikkim is a plastic free zone so while you are travelling to a remote place like the Silk Route try to comply with the environmental protocol given by the Sikkim Govt.
Zuluk Tourist Spot
We have included all the exclusive corners of Silk route that will make your tour worth it. Some of the Silk route tourist spots that we have included in our Zuluk Tour Packages are as follows.
Rongli Dam: This concrete dam is situated at the height of 5200 ft. Rongli River. It is capable of holding 45,200 cubic meters of water.

Rongli: Rongli is a small habitat that comes on the way to Zuluk Tour. The specialty of the place is that it is situated at the bank of the river Rongli, and cars get an inner line permit for Nathula Pass.

Zuluk: Zuluk is a small village that is a part of the old Silk Road. It is situated at an altitude of 7000 ft above the sea level. With every passing year this place is gaining its popularity among the people. The specialty of the place is there are no commercial hotels, the locals run home stays where tourists can spend the night.

Lingtam: While you are headed to Zuluk you will be passing through several small villages and Lingtam is one of them. Situated at an altitude of 5082 ft. it comes after the Rongli permit post. Lingtam Monastery is located in the village, and most of the tourists take a quick stop to visit the monastery.

Keukhela Falls: Keukhela Falls is located between Lingtam and Padamchen. It comes on the way to Zuluk. The stream is gushing down from 100 m. and the place holds magnificent scenic beauty.

Zig Zag Road: The prime attraction of the Silk Route is the Zig Zag Road. This is the reason Tourist Hub India made sure not to miss out on it in the Silk Route Tour 6n7d package. This is a spiral road with a hairpin bend. This meandering road is considered one of the world's dangerous roads. Once you reach Zuluk, you will get a splendid view of the road.

Thambi Viewpoint: Who does not want to experience a clear view of Mt. Kanchenjungha? Thambi Viewpoint is the place from where you will get a splendid view of the entire range. It is situated at the altitude of 11,500 ft. For being situated on the top of the Zig Zag Road, you will get a bird's eye view of the road.

Lungthung: This old trading road goes through several small villages and Lungthung is one of them. The village is situated at an altitude of 11600ft. You will get a panoramic view of the old trading road.

Nathang Valley: Apart from Zig Zag Road, another attraction of Silk Route Tour is Nathang Valley. It is situated at an altitude of 13,000 ft. The specialty of the valley is its magnificent landscape which is surrounded by snow-capped mountains. According to the local people, the valley has different colors- in winter it turns white, it remains green in summer and in autumn it turns golden.

Jelep La Pass View: It is located near Tukla valley and the altitude of the pass is 14000ft. It establishes a connection between India and Tibet. Dates back it had been used by the traders as the pass goes through Lhasa, of late this pass is prohibited for the civilians.

Tukla Valley:For being located at the border region, the place has witnessed some significant wars. You will get to see the war memorial of British soldiers.

Old Baba Mandir: When it comes to Sikkim, Baba Mandir is a place where everyone wants to visit. But, the old temple is the place where very few people visit. It is situated at the altitude of 13,123 ft. It is the original bunker where Baba Harvajan Singh used to stay at the time of the Indo-Sino War. He is a martyr of the Indo-Sino War in 1962 and belonged to 23 regiments of the Indian army. He has become a legend to the Indian Army and they maintain the temple.
Things to do in Your Silk Route Travel Packages
If you are wondering what you could do in a deserted place then you must start thinking out of the box. It is a boon to stay away from the hustle and bustle of the city. While you are out of internet connection brace nature. In the evening at SilleryGaon you can arrange a Bar-B-Q to spend a unique time with your family and friends. Apart from that you can do fishing at Rongpokhola and also do boating on Aritar lake.
HOW TO REACH THE SILK ROUTE FROM NJP/SILIGURI?
If you book our Silk Route Trip Zuluk Tour Package , we will provide pick up and drop facilities from and to the railway station/airport. Once you arrive at Siliguri/Bagdogra, our representative will receive you and you will be provided with an exclusive private vehicle. Through National Highway 10, you will reach SilleryGaon from which your trip starts.

| From | To | Road Distance | Tentative Time |
| --- | --- | --- | --- |
| NJP/Siliguri | SilleryGaon | 91 KM | 3 hr 57 min |
| SilleryGaon | Aritar | 38 KM | 1 hr 45 min |
| Aritar / Mankhim | Zuluk | 41 kM | 2 hr 07 min |
| Zuluk | Nathang | 53 KM | 2 hr 30 min |
| Nathang | Rongpokhola | 94 kM | 3 hr 50 min |
| Rongpokhola | NJP/Siliguri | 135 km | 5 hr 10 min |
COVID 19 Precautions During Travel To Silk Route Tour:
→ We will provide Face Mask & Sanitizer for all tourists in the tour..
→ Sanitization process maintained by our trained staff before check in and check out.
→ Maintain daily basis sanitization for our boat.
→ Sanitizer is also available in every room and restaurant.
→ Transportation vehicle is also fully sanitized by our own staff.
OTHERSikkim Zuluk Tour Package :
→ ZULUK SILK ROUTE TOUR PACKAGES
→ 2 NIGHTS 3 DAYS SILK ROUTE PACKAGE
→ 4 NIGHT 5 DAYS SILK ROUTE TOUR PACKAGES
→ 3 NIGHTS 4 DAYS SILK ROUTE PACKAGE
→ 5 NIGHTS 6 DAYS SILK ROUTE PACKAGE
→ 6 NIGHTS 7 DAYS SILK ROUTE PACKAGE
→ OLD SILK ROUTE TOUR PACKAGE

Tourist Hub India Other Packages?
Holiday Trip in Sikkim Silk Route
Find The Answer On Your Queries about Silk Route Tour
The place is remote so there is a scarcity of modern facilities. Nathang Valley which is situated at the height of 13,200 ft. is not suitable of elderly people and children. On your 6n7d Silk Route Tour you need to carry your original photo ID proof. The place hardly has ATMs so tourists are suggested to carry cash with them. Most importantly, you need to carry essential medicine, woollen clothes, etc. as you will be travelling to a remote place like Zukuk, and Nathang Valley.
If you want pleasant weather then you can visit during summer. The summer months start from May and remain until June. If you prefer snow but not the chilly temperature then you can choose a time in March. The winter in the valley starts from December and remains until February.
The route which was used by the traders a centuries ago now has become an adventurous destination for the travelers. The old route is situated in the eastern part of Sikkim which is quite remote. The primary attractions of the Zuluk Tour Package are the Zig Zag Road, and the spectacular Nathang Valley.
It is a place which is directly associated with India's trading history. This road connects India and China; more interestingly, this road passes through Nathu-La Pass, Jeep-La Pass, Lhasa, and surprisingly old Tamluk Port. So, visiting the place means reshuffling your history knowledge.
Geographically, it is located in East Sikkim and it has a historical significance. It was used for trading in the 14th century AD. The road which was a means of earning foreign money has now become a travel destination for the people who love to explore places. Even though this road is not used for trading anymore, due to its historical significance people are drawn to it.
Yes, Silk Route is completely safe for tourists. It is one of the most popular places to visit east sikkim for which the government keeps the place well maintained and completely safe for tourists. Not only Indians, Silk route is safe for foreigners as well. With our trip, you will get a local guide who is well versed with the place and will help to make your Silk route tour a remarkable experience.
It is situated in East Sikkim. It is quite a remote place, and still unknown to most of the people. Besides that, due to its height not many of the people can go there. So, if you love to explore new places and are physically fit then this trip is for you.
No, there is no ATM facility available in most of the places in silk route but it is advised to carry cash.Silk Road is in East Sikkim and being situated at a remote area makes it a little deserted from modern facilities like ATM, internet connectivity, modern healthcare system, etc. Besides that, the height of the place makes it tough to inhabit.
No, wifi facilities are not available at most of the places at Silk Route. As it is a remote place you may not be able to get cellular networks all the time in your Silk route tour. Approximate 3 hours journey from Siliguri/NJP/Bagdogra toward silk route you will face network issues which every tourists are facing during the trip.
Silk Route Tour Booking and Cancellation Policy :
→ Silk Route Package Tour booking would be intimated through corporated emailm id.
→ Company service voucher would be issued to the guest aginst the same.
→ 50% advance payment (100% for super peak time) is required to get the confirmation.
→ 100% Payment to be made before 3 days of Check In.
→ For any cancellation irrespective of no of days 15% charges will be levied.
→ 25% of the Package amount to be levied if cancelled between 20- 07 days before Check in.
→ 50% of the package amount to be levied If Cancelled between 07 – 03 days of Check in.
→ No Refund incase Of No show /Short Stay/or if Cancelled between 72 Hrs of Check in.
→ 100% cancellation Charge once Booking is made for Super Peak Season.
Zuluk Tour Packages Reviews
4.7
Stars Rating, out of
5
based on
173
Reviews
The amazing loops of Zuluk wrap around the hill. A treat for our eyes and the joy of a photographer. You need permission to reach this place as the border is under military control. You can see the enchanting color of the Zuluk Loop during sunset over the cloud waves from Lungthung. Beautiful Homestay is found in this very small village of Zuluk. Thanks Mr. Suman Ghosh (Tourist Hub India) for this wonderfull experience.

Animesh Mukherjee

March 18, 2021

A peaceful place surrounded by enchanting natural beauty and frozen beauty! With the Indian Army's transit camp next door, the 600-population Zulu provide a wonderful way to stay within the Snow Dynasty alone: the Ganathang Valley! Makes nice hospitality arranged by Tourist Hub India in the small homestay here! Zigzag from Thambi View Point when you are in Zuluk..

Ramesh Chatterjee

March 01, 2021

Extremely peaceful place with natural beauty. thanks tourist hub India such a wonderfull arrangements. You will see many rare species of birds This is a beautiful creation of God, a less crowded hill station good for family and friends traveling at silk route.

Ankur Goel

April 13, 2018

It Was a 4nights trip to silk route, We crossed Zuluk on the way from Mankhim to Nathang. Beautiful peaceful village with some nice homestay arranged by Tourist Hub India. Stay one night before going to Nathang It will help to adjust the weather and altitude.

Urila Chowdhury

March 17, 2017

It was first time vist in Silk route and I'm glad I chose Tourist Hub India. They were friendly and accepted all our requests. they even helped me to get the best view room in the homestay. Extremely peaceful place with paradise natural beauty. Less populated hill stations are good for family trips.